With Halloween just a few weeks away I decided to get in the spooky mood by discussiing some of my favourite witch characters. So, without further ado let's introduce them…
1. Kiki from Kiki's Delivery Service (1989)
Kiki is a 13-year old girl that moves away from home along with her pet cat Jiji in order to properly train as a witch, as the witching law dictates. Establishing a delivery service to earn a living, she meets various people and tries to built a new life from scratch.
Kiki's struggle with feelings of depression and creator's block spoke to my own struggles as both a person and writer. Her connection to Jiji, her black cat, was also something that we have in common.
2. Zeniba from Spirited Away (2001)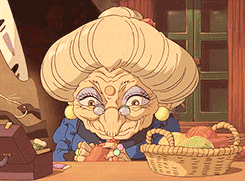 Zeniba is the twin sister of Yubaba, the main antagonist of our story. Where Yubaba is greedy and cunning, Zeniba is kind and compassionate. She lives a quiet life in a secluded cottage and is content with that.
Although she appeared cold and vinditcive at the beginning due to her feeling wronged, her true loving nature soon revealed itself and guided Chihiro in her journey.
Her insistence on being called Granny by Chichiro was a really touching moment…
3. Luna Lovegood from the Harry Potter films (2001-2011)
Luna makes her first appearance in Order of the Phoenix as a strange Ravenclaw who joins Harry's attempt at training the other students in Defence Against the Dark Arts. She is often the subject of bullying and ridicule by others due to her different beliefs and behavioral patterns
Luna despite the hardships never loses her cheerful optimism and remains an authentic person who always speaks insightfully about what's on her mind.
4. Aunt Clara from Bewitched (1964-1972)
Clara is the elderly aunt of Samantha Stevens and frequently visits the Stevens residence. Due to her age she has lost control of her magical powers and often her spells backfire in a hilarious manner.
She might cause havoc with her magic but is tolerant of the human husband of Samantha, whose presence is detested by nearly everyone else in the family, as well as accepting her niece's choice of a different lifestyle than the one expected of her.
5. The Spring Witch from Snow Queen (2002)
The Spring Witch saved Gerda from the river but from of a hero she turned herself into a villain who kept Gerd prisoner in her house, preventing her from venturing in the North and finding Kai.
Cheerful and warm in nature she sees Gerda as a daughter figure and is delighted in having her for company. Her maternal instinct pushed her into keeping the girl in her domain to protect her from the powerful Snow Queen.
Hallmark surely knows how to craft a lovable cottagecore witch…
6. Little Witch from The Little Witch (2018)
The unnamed witch was forced to learn every spell in the magical spell book in a year's span after attending a witches' party she was not invited to.
Feeling conflicted about the way she acts towards people and the way a witch ought to behave to them, she is looking for her path in life and works hard to prove herself as a capable and worthy witch.
I admire her immensely for the hard work she put into learning each and every spell as well as her unconventionality in the way she approached children and chose a familliar.
7. Queenie Goldstein from the Fantastic Beasts film series (2016-)
Queenie Goldstein is an American witch who, along with her older sister Tina, helps British wizard Newt Scamander in the search for his missing magical beasts. During their adventure she falls in love with the No-Maj Jacob Kowalksi which is against the American wizarding law.
Queenie's beauty and feminine demeanour result in others considering her a silly person and being ignorant of her naturall mind-reading abilities. She a mixture of both strength and softness proving that a woman confident in her femininity can also be resilient when she needs to.